Back in January, I was fortunate to have flown on the first (and hopefully annual!) oneworld MegaDO, hosted by MilePoint, American Airlines, & Hyatt. Although tickets for the MegaDO sold out in less than twenty minutes, my attendance at the launch party in Los Angeles had given me the opportunity to book the day before the general sales window opened up. I knew from the moment I saw the details of the program, as well as the offers from AA (fly 20K EQMs for Exec. Plat status!), that I wanted to attend. It also helped that the MegaDO occured over the weekend of my 21st birthday, so I knew it would be a great way to celebrate.
Qantas A380 open for tours!
Cathay Pacific 777-300 (fresh off the line!)
After the MegaDO concluded, American Airlines went way beyond what other airlines have done, and offered a Post-Event offer, which rewarded what we like to do-- FLY!
In addition to the individual challenge, AA also offered a group challenge, which would offer two opportunities to win ConciergeKey status.
Group Challenge Grand Prize - Who wants ConciergeKey status?!
At the end of the three-month period, two overall winners will be selected and will be awarded ConciergeKey status. The first overall winner will be the person with the highest number of eligible segments flown during the entire three-month period The second overall winner will be the person with the highest number of eligible base miles flown during the entire three-month period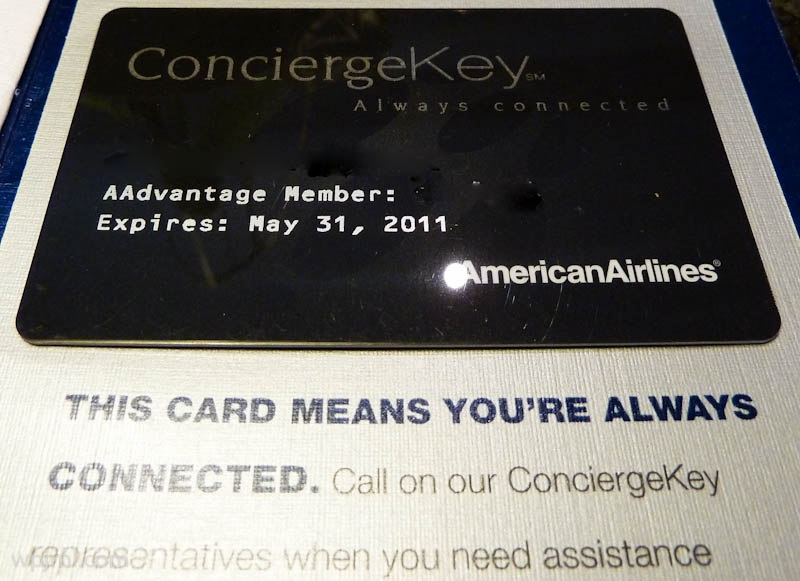 At first, I had not been planning on flying enough to maintain my newly minted Executive Platinum status. However, my friend Will from New Zealand (he's the one I went to Shanghai with in November) alerted me to a dirt cheap fare from JFK to Beijing. Thanks to AA's liberal routing rules, we were able to fly JFK-LAX-ORD-PEK-ORD-SFO-JFK for $750 all/in. And, thanks to AA not having fare restrictions on their SystemWide Upgrades (eVIPs), the entire trip cleared into First or Business. Due to my limited schedule, I was only able to book two of these trips, while Will booked four back-to-back trips to Beijing.
Despite my limited schedule, both trips would earn me 37,890EQMs, and over 151,000 RDMs!
Now that I've explained the bonus offer, and our crazy flight schedule, you're probably thinking that we should both be committed to a mental institution for a very long time. I might have thought this for a micro-second when Will proposed flying to China for eight hours, but when the thoughts of 4x RDMs (redeemable miles) popped into my head, I was sold! Good thing I was given a one-year, multi-entry China visa, last November! :-)
The first Beijing trip went off without a hitch, and brought me within 25K miles of requalifying for Executive Platinum. In addition, I got to enjoy the AA business class product, something which I really wish I could have flown when we went to Shanghai in November! (14 hours in Economy is hard.. Especially when you're 6' 1"!)
Below are a couple of photos from the first trip. I am scheduled to fly my final Beijing trip this coming weekend, at which point I'll work on a full trip report.